We are very excited about this next phase of our program. We are working in a pilot project with the M.D. of Greenview and anticipate release by September of 2011. This phase would provide the same style of on line application and approval process as the approach applications.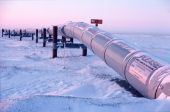 Most underground utilities at some point need to cross under a Municipal Roadway or an approach that is controlled by the Municipality. This can include oil and gas pipelines, telephone lines, water or sewer lines or any other utility or service that is needed by ratepayers. The company performing the work needs to apply to obtain permission to cross under the roadway.
Similar to the approach application providing companies the ability to apply "on line" dramatically reduces the administrative time to apply, submit and wait for approval to construct. The turnaround time is dramatically improved through the automated process.
The applicant would provide details of the:
Starting LSD
Ending LSD
Roadway or Road Allowance to be Crossed
Proximity (distance in Meters) of the crossing point as designated from the closest intersection
ERCB Required Directive Letters (Electronic format)
Any Site plan or Survey documents (Electronic format)
Each Municipality will determine the maximum number of crossing points allowed on a single application. If a pre-construction inspection is required, notification would be sent to the applicant as to this requirement and the inspection process can be entered also be entered into the system. If the inspection was satisfactory, approval would automatically be sent.