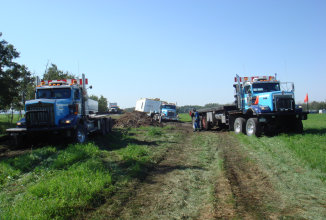 An Approach Application is required when the Oil Company is applying to construct access onto a local roadway. The Oil Company must obtain permission from the Municipality prior to construction. The application regulates the Municipal guidelines the Oil Company must follow when constructing the approach. The type of development may involve a New Well Site, Existing Well Site Re-development, Compressor Location or Storage Location.
Our approach application allows the Oil Company and their respective Land Agents to apply "on line" providing a simple method to apply to develop a new or existing lease approach. Site survey documents are uploaded into the system and APPROVAL TO CONSTRUCT may be granted immediately upon successful processing of the application.
Roadata can coordinate and invoice the Oil Company for the Approach Application. The fee will be collected by Roadata then remitted to the Municipality.

Approach Applications - Common Questions and Answers


Adobe Reader is required to view and print these documents.