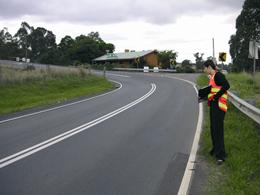 Inspection fees are preformed related to the movement of a Drilling Rig, Service Rig or overweight traffic in and out of the Municipality. Generally a pre-move and post-move inspection is completed, but depending on the movement a Post inspection may be all that is required.
An inspector can be an internal staff member or a contract inspector. Dependant on the volume of inspections required the contractor can be part time or shared fulltime between neighboring municipalities. Either method can be easily coordinated by Roadata. We simply coordinate the inspection and charge the fee as part of the permit fee to industry. The funds are remitted back to the Municipality or to the contractor.
Many Municipalities have reported success since implementing inspections. There has been significant improvement of cost recovery for damage caused to Municipal roadways, some reports are as high as $250,000 annually.

Roadway Inspections - Common Questions and Answers


Adobe Reader is required to view and print these documents.