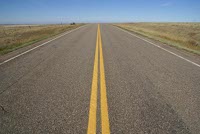 Roadata Services Ltd. (RDS) maintains a database of Road Bans, Bridge Restrictions and Construction Activity for Primary and Secondary Highways in Alberta and Saskatchewan.
Enter the Primary or Secondary highway you wish to search into the textbox to display all active restrictions:
Road Bans
Road Bans are weight restrictions that reduce the maximum weight allowed on any carrying axle of a Truck or Trailer by the percentage specified.
Weight Restricted Bridges
Weight Restricted Bridges are bridges that may not be able to carry the full legal weight of a unit or an axle group. The weight restriction will vary depending on various properties of the bridge.
Vertical Clearances
Vertical Clearances are any overhead obstruction that may restrict movement. Some of these vertical restrictions are less than legal height.
Automated Road Ban Restriction Information (Seasonal): 1-877-236-6445
During the seasonal months of Road Bans, RDS provides an Automated Road Ban Information Service. This service is brought to you free of charge by Alberta Transportation. Call the Road Ban Toll Free Number (1-877-236-6445) and enter the highway number you wish to receive information on. The system will advise you of any road bans currently active on that highway.