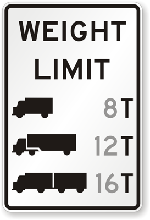 ALBERTA

Overweight travel on Alberta's Primary and Secondary's highways is restricted by Axle Groups and Loading Periods. Please refer to the weight charts listed below for a complete breakdown of each Axle Groups allowable weight by Loading Period.

Note: In order to travel at the weight listed for each Loading Period, a Provincial Overweight Permit must be obtained.



ALBERTA HEAVY HAUL STEERING WEIGHTS

ALBERTA HEAVY HAUL TRAILER AND DRIVE WEIGHTS

ALBERTA SERVICE RIG WEIGHTS

ALBERTA BAN SEASON COMBINATIONS
SASKATCHEWAN

SASKATCHEWAN DRIVE WEIGHT CHART

SASKATCHEWAN TRAILER WEIGHT CHART

SASKATCHEWAN GOVERNMENT WEIGHT INFORMATION


Adobe Reader is required to view and print these documents.